Bay Area artists have brought domestic bliss to Paradise Ridge Winery's year-old Sculpturegrove
By MEG McCONAHEY
A weathered farmhouse door stands disconnected in the meadow leading to a grove of gnarled oak. Beyonds dozens of clear glass teacups dangle from tree branches winking in the filtered afternoon light.
But these odd little incongruities of civilization displaced in nature hardly prepare the eye for the sight of a stream of empty beds the shade of cherry lipstick — meandering through the treetops in a fanciful scene straight out of a children's picture book.
Entering the Paradise Wood Sculpturegrove is like tumbling through the looking glass into an inside-out world where household objects join the mossy fieldstones and fallen branches as furniture in the landscape.
It's part of the newest exhibit called "Domestic Nature" in the year-old outdoor sculpture gallery at Paradise Ridge Winery overlooking Santa Rosa. The exhibit, aimed at challenging vIewers to examine their own relationship with the land, opens today. But the five Bay Area women artists who collaborated on the project over the past several months have slowly created much of it on site, turning a four-acre woodland above Fountaingrove into a working, outdoor studio.
"If the other exhibit turned heads, this will stop traffic," allows sculpture garden patron and winery owner Walter Byck, contrasting this collection with its first exhibit, "Objects in Nature" exhibit of monolithic redwood carvings and fabricated bronze and steel pieces that closed last October seems conventional compared to the surrealistic scene replacing it.
There's a giant bird nest perched on an iron freeway column, while tires that look like oversized lifesavers lodged in branches, a kinetic mobile of bicycle wheels twisting from a tree.
And those beds, all nine of them toughtly strung from cables between the oaks like vehicles for dreams. It's all, the artists say, more than mere creative whimsy.
"Domestic Nature" is an environmental article of faith, coming at a time when three miles of spectacular mountainside surrounding Paradise Ridge have been opened to development by the new Fountaingrove Parkway linking northern Santa Rosa to Rincon Valley. Over the next few years, some 600 new homes are slated fo be built along the scenic ridge top home to the red-tailed hawk and wild turkey.
The artists primarily used salvaged and recycled materials, or natural objects found on the land like grapevines and dried moss. Large stones served as pedestals for much of the ephemeral work.
"We're on the edge of man's assuming the use of the laud for its own habitat," said Byck, who opened the Sculpturegrove last year as an outdoor museum with changing exhibitions committed to the theme of art, ideas and nature.
Berkeley sculptor and ceramicist Andrée Singer Thompson. who has worked with Christo said all five artist were jarred by the discordant experience of driving through a series of new condominium developments to get to the winery, a rural sanctuary only several miles up from Mendocino Avenue.
It inspired Thompson to create her own development — a subdivision of bird houses, or "bird condos" as she calls some of them, custom made for the feathered creatures that inhabit the woods. There are several models to choose from: the big nest made out of a Papa-San chair and filled with ceramic eggs each big enough to accommodate a small bird family, the ceramic eggs hanging from a metal coatrack, or the miniature version of Fountaingrove's famous Round Barn. Thompson has designed a column filled with nesting materials she call the "Bird's Own Depot," where the finches, chickadees, swallows and sparrows that inhabit the grove, can stock up for home building projects.
Added to sculptor Lorna Stevens' open antique bird cages filled with seed, which invite birds to safely dine in a structure built to entrap them, the exhibit is not only thought provoking, but functionally friendly to the creatures that live at Paradise Ridge.
"One of the main causes of diminishing wildlife and fauna is construction. Overpopulation means we have to construct, but we can still do it with more consciousness about what we're displacing, " said Thompson. "That idea is part of what the whole theme is. We're taking things from man's domestic scene and imposing them on nature's domestic scene.
Thompson and her partners in the exhibit are "installation artists" who create works for specific sites. Rather than grand pieces built to withstand the centuries, theirs typically are only temporary. When the exhibit closes they will be gone, a fitting metaphor for the vanishing open spaces and animal life in the Bay Area, said exhibit curator Hawley Holmes.
The evanescence of the exhibit demands a certain attention and appreciate, simply because it won't be around next year, as Thompson sees it.
Visitors strolling through the grove can pause for relection and bird watching at the sculptured benches of Etsuko Sakimura whose works are in the private collections of Empress Michiko of Japan and Sen. John D. Rockefeller.
The most playful pieces are the teacups and tires from Susan Leibovitz Steinman, recognizable household objects the artist hopes will evoke, as she puts it, "memories of family and community" — human history that "braids itself into the grove's natural history."
Certain to provoke the most head scratching and discussion among visitors wandering the woodchip-strewn pathways through the grove are the beds of Judith Blankman, who strives to create architectural representations of human experience.
The concept of a "river" of beds with mattresses of grapevine twigs flying among the oak leaves is both a visual bon mot and an unlikely image the San Francisco artist sees as a metaphor for dreaming and floating, growth and change. She chose red because it's a color that simulates creativity twin beds because they conjure up an individual experience rather than one that is shared.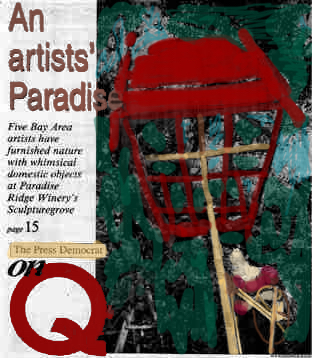 Byck know the new exhibit is bound to stir up not only metaphors, but mixed feelings.
Some observers are griping already, complaining it looks like junk littering the meadow. But he's prepared for the backlash. "I expect it," he said, admitting he too had his doubts before he saw the complete picture materialize in the grove.
Now he sees the turnabout as ingenious and inventive. "This is a magical place. What all these pieces do, " he said "is get people to think of natural woodlands with wonder."
In the grove Exhibit: "Domestic Nature," featuring the site-specific sculptures of five Bay Area women artists
Featured artists: Judith Blankman, Etsuko Sakimura, Susan Leibovitz Steinman, Lorna Stevens, Andrée Singer Thompson
Dates and times: 11 a.m. to 6 p.m. daily through Dec. 31
Location: Paradise Ridge Winery and Sculpturegrove, 4545 Thomas Lake Harris Drive, off Fountaingrove Parkway, Santa Rosa
Admission: free
Phone: 707-528-9463