Southern Exposure Gallery
San Francisco, CA
1988
MFA exhibition, temporary installation. Wood, copper pipe, dirt, other mixed media.
Dimensions:
13′ H x 13′ W x 12′ D
This site-specific installation responded to the dynamic architectural characteristics of the gallery space, highlighting the clerestory windows that grabbed my attention whenever I was there. Ladders and dirt reach toward visible and hidden and spaces.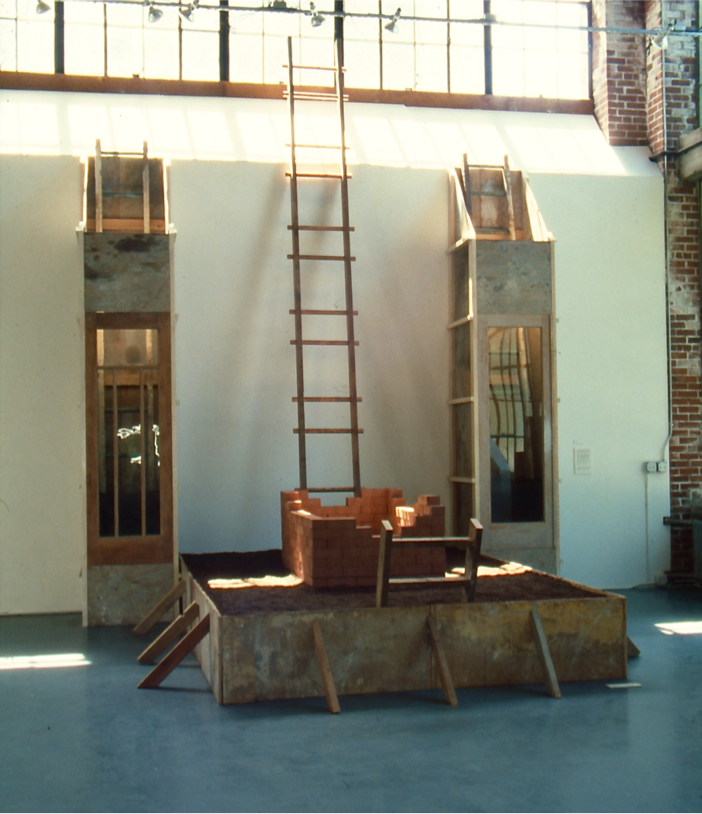 sup/POSITION is about struggle, ambition, hidden emotions, and transcending the barriers that protect who we are. In the course of being human, we obscure our own natures, our inner turmoil, and our emotions. We have obstacles to surpass, tensions to suppress, and pain to lock in. The towers, locked door, and bed of dirt are hiding something, creating an aura of mystery and intrigue around the installation.
"Our soul is an abode."
— The Poetics of Space by Gaston Bachelard