600 Townsend Building
San Francisco, CA 2002
Funded by an Individual Artist Commission Grant from the San Francisco Arts Commission Cultural Equity Grants Program.
Common kitchen implements were the key components used to conduct water in this installation of moving sound sculptures. The public was invited to play the sculptures: slap a clapping pool, tip rocking colanders, and raise a teakettle fountain to create their own combinations.
The exhibition culminated in a performance created in collaboration with composer and musician Chus Alonso, and musicians Fran Holland, Yari Mander, Darren Morgan and Brian Rice. Chus refined the complex instrumentation for the Cascadence score, structured according to the cycles of water: runoff, rain, creek, waterfall, river, delta mouth, ocean, evaporation, cloud, and storm.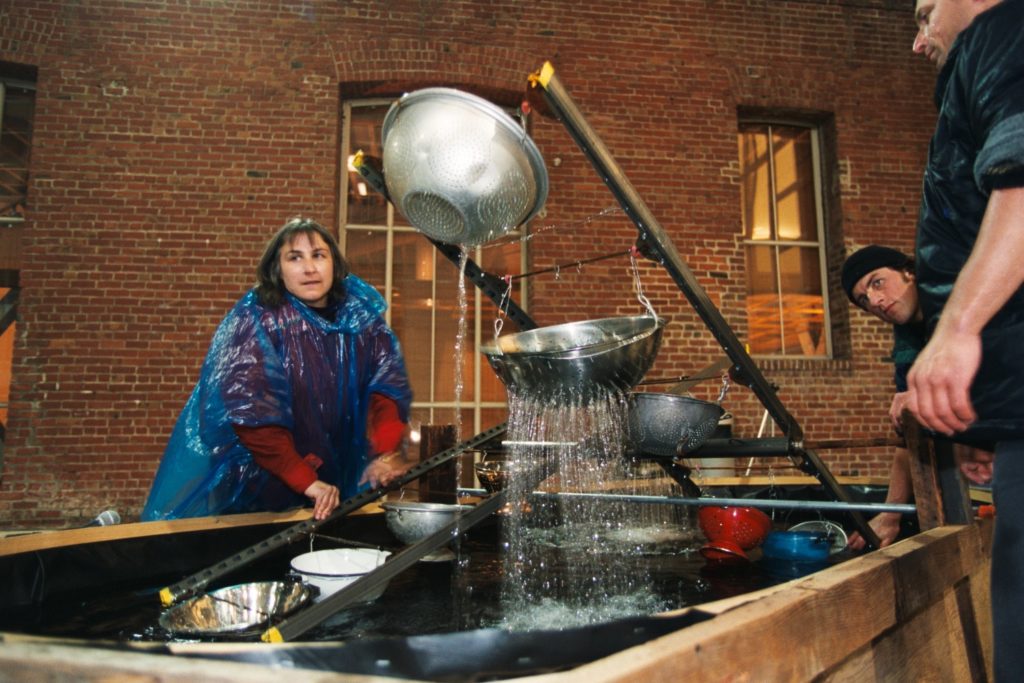 One of the project's merits that influenced its funding by the San Francisco Arts Commission Cultural Equity Grants Program was it's potential for reaching a new audience for art. The work was presented in the courtyard of an office building in the South of Market district where building tenants could access freely during weekdays. Two Sound Sculpture Family Play Days were open to the public on the weekend.
Because my work playfully recombines the familiar into new relationships, it appeals to the everyday person. Because my work is site specific, it reaches a varied audience dependent on location. Arts venues attract mostly artists and art lovers, office buildings attract a variety of workers and the passing public, university venues attract students, faculty and staff, etc. My work is more likely to draw a casual, spontaneous audience who has a relationship with or reason to be at a particular venue.
Signage invited the public to interact with the sculptures and depending on their point of view, play them as instruments or toys. In this spatial context, my intention was for visitors to enjoy these explorations while making an elemental connection with the properties of sound and water.
Clapping Pool
A receptacle for bringing low tech water "instruments" to life. The instruments consisted of containers and objects that together created an infinite range of sounds.
Sound was created by striking floating elements such as upside down bowls, bundt pans and gourds, blowing through tubes and manipulating hollow objects such as 5-gallon plastic water bottle spouts or a tuna can attached to a stick.
The objects were partially immersed in water or modified by moving them in and out of the water.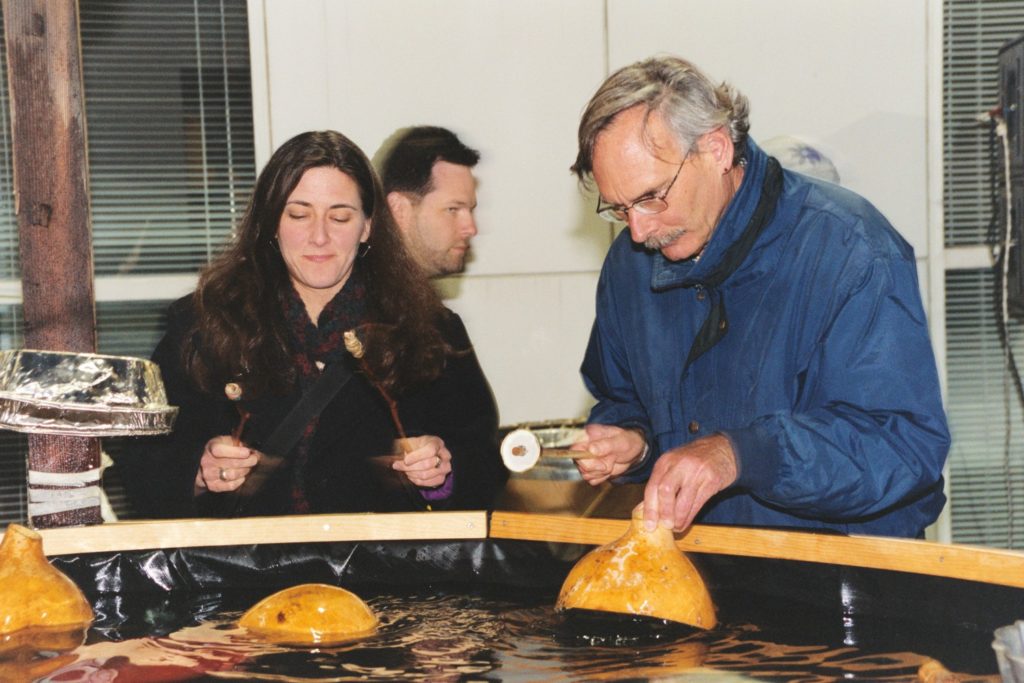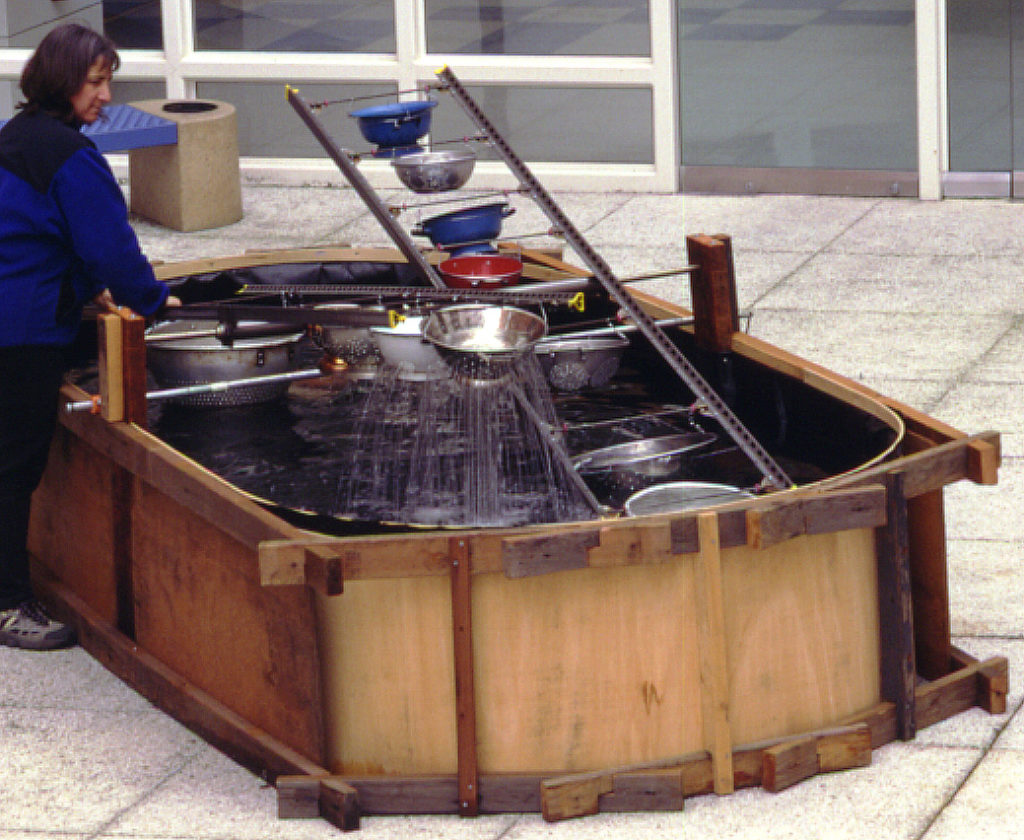 Colander See Saw
A pair of ladder-like structures sporting two rows of small to very large colanders.
Mounted over an oval pool of water, the structure is rocked back and forth by hand. Water rains from the colanders in unison with varied ranges of force and staggered conclusions.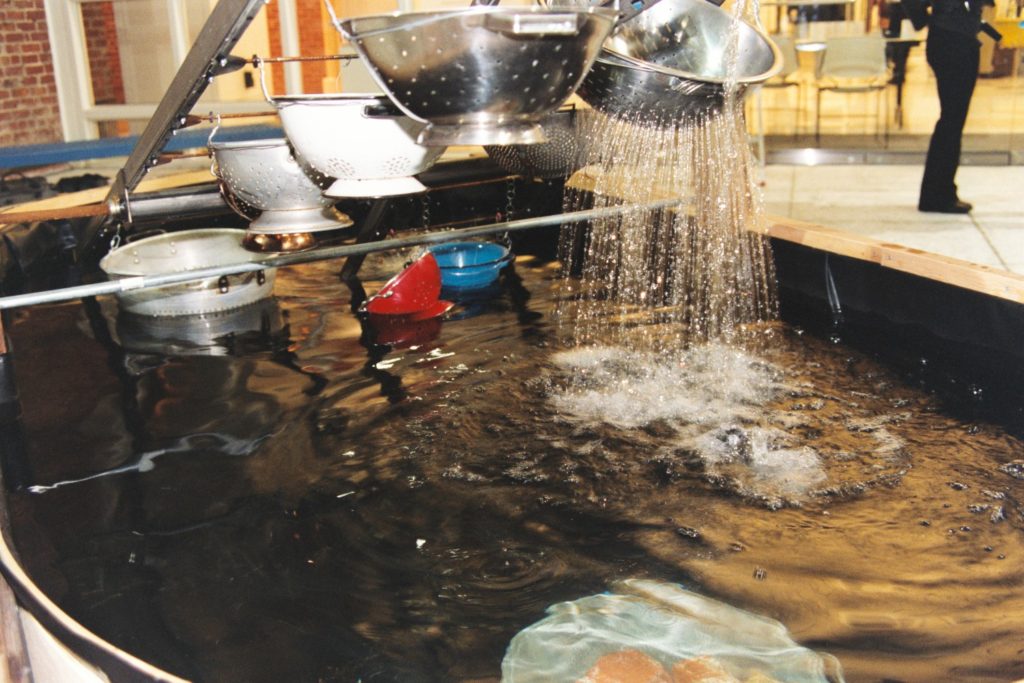 Tea Kettle Fountain
Four tea kettle clusters, suspended from a metal structure that is raised and lowered into four enormous plastic water "buckets" by cranking a winch. The objects also served as percussion instruments.
The Ocean segment of the performance involved dipping and dumping buckets of water into the tubs.
Family Days
Two Sound Sculpture Family Play Days were open to the public.
All ages were welcome. Newspaper ads encouraged people to bring everyday objects that could get wet, plus water-resistant clothing.